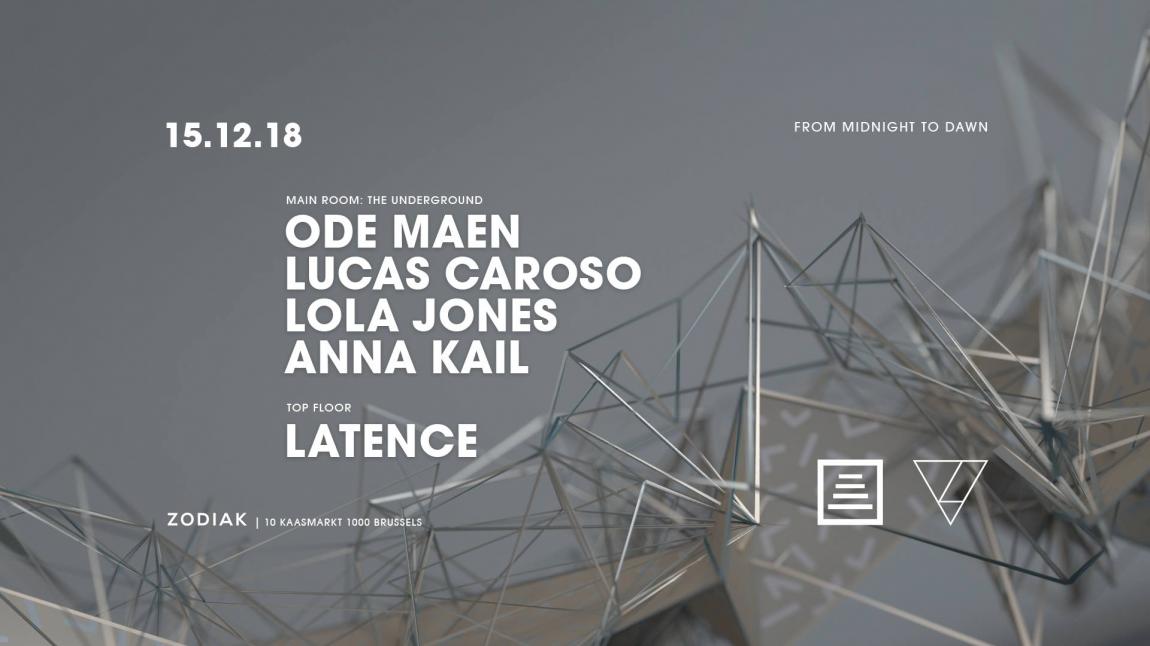 The Underground: Ode Maen, Lucas Caroso, Anna Kail and Lola Jones
3 x 2 entrées à gagner pour cette soirée. Tentez votre chance gratuitement!
Ode Maen
https://soundcloud.com/ode-maen
He started exploring and digging into an unknown musical world as a juvenile. He brings an organic minimal techno vibe with the main purpose of movement and energy. He always builds up his sound with a skeleton of drums and loves to explore all the "out of this world" syntheses. As dj set up he delivers the highest industry standard with more LIVE aspects as everything is build around a 4 deck Traktor Main Mix + Analog FX Routings and a Hybrid (Ableton integrated) set up.All this perfomered on the infamous 6 decks Model 1 wich essentially puts all his audio material together.

Lucas Caroso (Microzoo, Circo Inferno)
https://soundcloud.com/nick_van_geyte
His sophisticated, technically impeccable and most of all full-blown dark, driving techno sets make him a must for any self-respecting dance party. However, don't expect your average monotone techno beats, his passion for the genre guarantees a refined diversity comprising every possible outskirt of techno music, being both groovy as hypnotic.
The future is looking bright with the uprising fame of his own Mikrozoo parties and confirmed residencies at Circo Inferno and Bang The Box. Lucas will be relocating permanently to Brussels where he will be able to put all of his focus on music and take his exposure to the next step.

ANNA KAIL
https://soundcloud.com/annakailmusic
After years of hard work Anna Kail was able to create her own style, that you could describe as a melodic but dark techno sound full of energy and emotion. Last years she stood behind the decks at amazing venues as Zoo Project (IBZ) Destino (IBZ) and played for parties as Sonntag, Techno Kingdom (NL), Flashback from Marco Bailey and Dany Rodriguez and many more. She loves to travel and connect with people all over the world. And that's what she loves the most about music, how it connects people! Her goal for the future is to grow as an artist, with deejaying and also producing her own music. This is only just the beginning and she's more than motivated to continue her journey!

Lola Jones
https://soundcloud.com/lolajones01
Lola Jones is a Brussels based dj. Growing up in a mixed african – european family, music and dancing played an important role in her live. At the age of 16 she discovered Brussels techno temple Fuse and so her love for techno music grew more and more.

Looking up to deejays like Richie Hawtin, Len Faki, Pan-Pot and many more, she found a way to express herself through electronical music. Flirting between the several sub genres in techno she builds up a lot of energy and intensity in her sets. You should keep an eye on this one because this is only her first chapter.
Ode Maen
Lucas Caroso
Anna Kail
Lola Jones
www.zodiak.club
Search Hotel
---
"The Underground: Ode Maen, Lucas Caroso, Anna Kail and Lola Jones" Soirée annoncée par : Flora-Nele Houttave