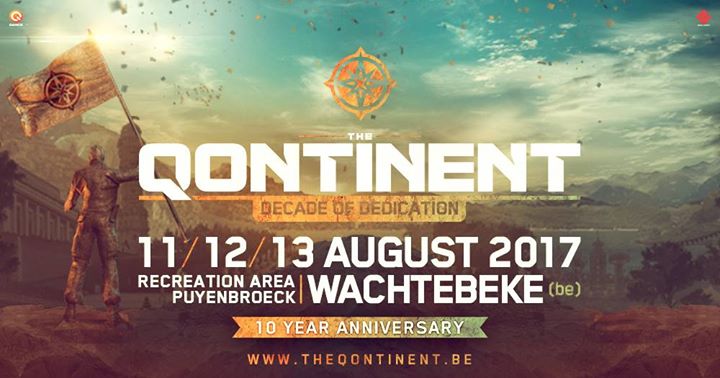 Hardstyle
Vendredi 11 Août 2017, 13:00
13 Août 2017, 23:00
Infos
Êtes-vous prêt à faire exploser les étoiles? Préparez-vous déjà pour les 11, 12 et 13 Août.. quand un des plus beaux endroits de Belgique se transforme en paradis des "ravers" pour fêter les 10 ans du festival The Qontinent: "Decade of Dedication"!
Une île à couper le souffle, entourée d'eau et au milieu de la nature, de préférence pendant les 3 jours, un chouette camping, des "stages" proches, les "beats" les plus "hard" et surtout ... un line-up de malade (
http://www.theqontinent.be/line-up
): vous êtes à The Qontinent!
Le plus grand et le meilleur des festivals Belges "Hardstyle" est un événement à ne surtout pas manquer!
Commandez vite vos tickets sur
http://www.theqontinent.be/tickets
car ils partent très vite!
Ceux qui ne connaissent pas encore The Qontinent peuvent plonger dans l'ambiance de l'année dernière grâce à l'aftermovie 2016:
Deejay's
*** Friday 11 August 2017 ***

@ Declaration of Dedication (Pre-party Mainstage)
Adrenalize
Audiofreq
B-Front
Brennan Heart
D-Block & S-te-fan
DJ Isaac
Hard Driver
Mandy
MC DL
Panic
Paul Elstak

@ The Tribune (Jump Classics)
Dark-E
Fenix
Francois
Genius
Lethal MG
MC Chucky
Pat B
Playboyz
Ruthless

@ The Bunker (Future Heroes)
ANDY SVGE
Clockartz
Crisis Era
Demi Kanon
Denza
Ignition
JNXD
MC Tellem
Refuzion


*** Saturday 12 August 2017 ***

@ The Arena (Mainstage)
Atmozfears
Audiotricz
Code Black
Cyber
Da Tweekaz
Gunz For Hire Live
Mark with a K & MC Chucky Live
MC Chucky
Radical Redemption
Rebourne
Sephyx
Stephanie
Sub Zero Project
Unsenses
Wasted Penguinz

@ Medals of Honour (Hardcore)
Andy The Core
Angerfist Live
AniMe
Bodyshock
D-Fence Live
Decipher
Dyprax Xclusive
Evil Activities
Evolver
MC Diesel
Noize Suppressor Live
Nosferatu
Partyraiser
Tears Of Fury
Tieum
Tommyknocker

@ Declaration of Dedication (Raw Hardstyle)
Act of Rage
Adaro
Bass Chaserz
Crypsis
D-Sturb
Deetox
Delete
E-Force
Jason Payne
MC Nolz
Phuture Noize
Prefix & Density
Ran-D
Titan

@ Hall of Fame (Freestyle)
Dark-E
Darkraver
Dr Phunk Live
Dr Rude
Dutch Movement
Lords of Tek
Lowriderz
MC Tellem
Nowaxx
Pat B Live
Pyra
Ransom
Ruthless
The Viper

@ The Tribune (Footworxx Industrial Hardcore)
A-KRIV
Axellerator
Carles S
Chok Dee
Deterrent Man
Detest
eDub
F.Nøize
Footworxx Militant Crew
Future Kickz
GOETIA
MC Reign
NSA
Sandy Warez
SECTION GRABUGE
Sjammienators
The Survivor
Tymon
Vandal!sm
X-mind Live

@ The Bunker (Future Heroes)
Apexx
Blasco
D-Attack
Deluzion
Envine
Galactixx
Malice
Mind Dimension
Ncrypta
Retrospect
Revalue


*** Sunday 13 August 2017 ***

@ The Arena (Mainstage)
Bass Modulators
Coone
Devin Wild
Ecstatic
Frequencerz
MC DL
Miss K8
NSCLT Live
Psyko Punkz
Public Enemies Live
Sound Rush
Wildstylez
Zatox

@ Medals of Honour (Hardcore)
Beastarius
Destructive Tendencies Live
Dr Peacock
Furyan
Lady Dammage
Mad Dog
MC Diesel
N-Vitral
Tha Playah
The Melodyst
The Sickest Squad
Unexist

@ Declaration of Dedication (Raw Hardstyle)
Degos & Re-done
Digital Punk
Endymion
MC Livid
MYST
Rebelion
Regain
Requiem
Sub Sonik
Tartaros
Thera
Unresolved
Warface

@ Hall of Fame (Classics)
Dark-E
Deepack
Donkey Rollers Live
Dr Rude
Endymion
Josh & Wesz
Luna
Mark with a K
MC DV8
Scope DJ
Technoboy
The Pitcher

@ The Tribune (Footworxx Industrial Hardcore)
BARTOCH
Chaotic Hostility
DRS
Eddy Hardcore
Hardbouncer
Masters of Noise
OGM 909
OMIRA
Sandy Warez
SEI2URE
Spitnoise

@ The Bunker (Tek Classics)
Bestien
Chicago Zone
Def Toys
Detektor
Gave Live
H4bitane & Gordon Smith
Manu Kenton
Royal S
Saltzer
Tek Soldierz
Membres présents
---

2279
Wachtebeke
Devenir Fan
Commentaires » The Qontinent - Decade of Dedication