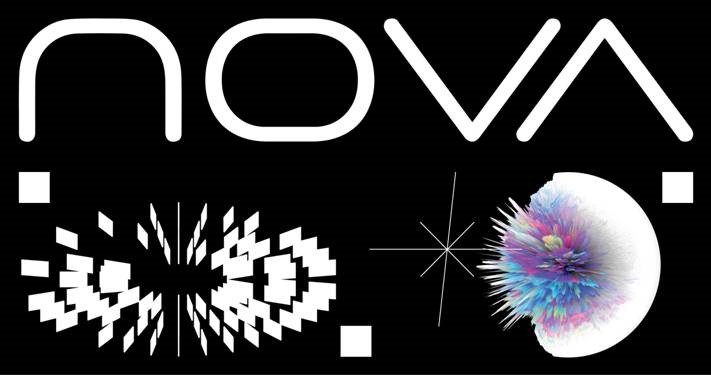 Nova invites: Dax J, Rebekah, Gary Beck & more
Wiedauwkaai 25, 9000 Ghent (BE)
Techno, House
Nova does not only mean 'new' in Latin, it is also the name for a double star which - all of a sudden – will shine more brightly before returning to its orginal brightness months or years later … The double star consists of a white dwarf star and a red giant. When both have a strong magnetic field, the pressure and temperature get so high that a huge, explosive thermonucleair chain reaction takes place …

Let's brace ourselves for this huge explosion on New Year's Eve as Kozzmozz and Moonday take us on a trip to NOVA! Prepare for a drift in an unknown universe, towards a new year. These two spaceships will make an exceptional night of that special transition to the year 2018.

Kozzmozz and Moonday will touch down at the Eskimofabriek with 2 blinding rooms full of techno luminaries. Big international stars are joined by Belgium's finest to deliver the soundtrack and atmosphere that will take you to the highest realms of techno's outer space galaxies.



Heading the Hydrogen room is Rebekah who is celebrating 20 plus years behind the turntables. Rebekah has established herself as one of the leading exponents of techno, having made early EP's on Naked Lunch, Smut Music and Cult Figures. She later developed a close relationship with Chris Liebing's CLR imprint. Her own Decoy Records signalled the coming of a new chapter and the launch of her own event series 'Elements'. And now Rebekah released 'Fear Paralysis' on Soma, delving in to the deeper side but not forgetting that the dance floor is where her heart will always be.
Next up is London based Dax J. who was voted into Resident Advisor's top 100 DJ's of the year at No.56. He played closing sets at monumental parties including Awakenings as well as a 10-hour marathon set in Berghain. He released his highly acclaimed debut album 'Shades of Black' on his own label Monnom Black. He also has records out on Deeply Rooted House, Electric Deluxe, Soma, Fondation Sonore, EarToGround, Arts, … and has been remixed by a collection of key players such as Shifted, Phase, Ryan Elliot, Truss, Jonas Kopp, Slam and Par Grindvik.

Truss and Tessela have forged formidable individual reputations as producers with defining tracks for the likes of R&S, Perc Trax as well as their own Poly Kicks label. Their new collaborative project Overmono, now sees them come together for the very first time. In their own words… "Despite doing some live shows together and the fact that we're brothers, we hadn't ever really written music together. We decided to head to a remote cottage in rural Wales. The trip ended up being the most creative stint either of us had ever had and after a week we had the foundations for Overmono."

I Hate Models has known an eye-popping ascent with a variety of releases on labels such as Khemia, ARTS, Voitax, T/W/B or Monnom Black. He navigates between rave music, Industrial sounds, Electro, Post-Punk, Wave and EBMish productions. With an artistic line based on the expression of melancholia and intense emotions, his music can be characterized by a showdown between Love and Hate or Darkness and Light.

Ghent home-based dj/producer TWAN co-founded the successful Belgian techno concepts RIMBU & Repossession. Strongly influenced by rave music TWAN creates a unique sound in his dj-sets and productions that can be recognized instantly. .
Spacid is a regular guest at both Belgian and international events. He played at 10 Days Off 7 times, I love Techno 4 times Tomorrowland more than 10 times. He performed at Pukkelpop, House Torhout and the Lokerse Feesten, but also hiked the crowd of the more alternative Voltage Festival. He has been a resident at Kozzmozz for many years now.



In the Carbon room our headliner is Gary Beck who has long been established as a primary figure in techno through music on some of the genre's leading institutions such as Drumcode, Cocoon, Soma and Saved as well as his own BEK Audio imprint. He also did numerous collaborations with similarly exceptional talents such as Green Velvet, Mark Broom and Speedy J. The last few years have seen Gary Beck's career trajectory continue to soar, with shows at renowned clubs such as Womb Tokyo, Fabric London, Awakenings, Output NYC and Timewarp, to name a few.

Secret Cinema has been a key figure from the Dutch scene since 1991. An international headlining artist known for his sets in Berghain, Space Ibiza, Womb Tokio, Watergate, his frequent Elrow gigs or headlining every major festival in the Netherlands. This Gem Records label boss is responsible for moving the careers of Egbert, Enrico Sangiuliano and more. Gem Records also has a booking agency and label nights to accommodate the new talent Verheij discovered. With tracks on Gem, EC, Drumcode and Cocoon he helped define the sound of eras for many clubbers.
Nico Morano plays more than 100 gigs per year in highly respected clubs like Fuse, Ampere, Decadance and Magic but also at big festivals like Tomorrowland, Laundry Day, Ostend Beach and Thé Dansant. As a resident of Ketaloco, Deep House Belgium and La Rocca on Sunday, he has been able to build a strong connection with his very loyal crowd.
When you try to jog down a map of the Belgian electronic music scene you'll definitely have to highlight Goldfox' name for the Limburg area. Apart from DJ'ing Goldfox also established himself as class-A promotor thanks to his memorable work for the old school concept Rave Our Souls and most recently Limburg hotspot Forty Five.
Lebawski is a Decadance resident and co-founder of Moonday. He often switches between house and techno instead of sticking with one style, to maintain some sort of storytelling throughout his sets. Here he will form a team with Nelsøn who loves the rhythm and the high energy of music. Today Nelson combines African rhythms with house and techno by evoking the same ambiance and passion in his sound.

With the best techno sounds from the moment as well as those of the future, Kozzmozz & Moonday will voyage into the new year together. Are you ready to join them on their NOVA explosion?

Hydrogen room:


Rebekah (Soma, Elements. UK)
www.facebook.com/rebekah.music.page/
soundcloud.com/rebekah

Dax J (Monnom Black. DE)
www.facebook.com/DAXJOFFICIAL/
soundcloud.com/daxj
www.elitemm.co.uk/artist/dax-j/

Overmono DJ set (XL Recordings. Truss vs Tessela. UK)
www.facebook.com/overmono/
soundcloud.com/overmono

I Hate Models (ARTS, Monnom Black, Voitax, T/W/B, Pls.uk. FR)
www.facebook.co...07720959521404/
soundcloud.com/ihatemodels

Twan (Madback Records, Rimbu. BE)
www.facebook.com/twan909/
soundcloud.com/twan909



Spacid (Kozzmozz. BE)
www.facebook.com/spacid/
soundcloud.com/spacid



Carbon room:


Gary Beck (Bek Audio, Soma. UK)
www.facebook.com/garybeckmusic/
soundcloud.com/garybeck

Secret Cinema (Drumcode, Cocoon, Gem Rec. NL)
www.facebook.com/secretcinema.gem/
soundcloud.com/secretcinema

Nico Morano (Atmosphere Records. BE)
www.facebook.com/nicomorano.official/
soundcloud.com/nicomorano

Goldfox (Forty Five, Studio Brussel. BE)
www.facebook.com/Goldfox/
soundcloud.com/goldfox

Lebawski B2B Nelsøn (Moonday. BE)
https://www.facebook.com/LEBAWSKI/
https://soundcloud.com/lebawskithedude
www.facebook.com/Nelsonsound
https://soundcloud.com/nelsonsoundbe
Pre-sale: €26
Group ticket: 4 friends for €99
All FNAC Shops / All Brooklyn Shops /
Online: Novaeruptions.be

www.kozzmozz.com
---
"Nova invites: Dax J, Rebekah, Gary Beck & more" Soirée annoncée par : sansunshine