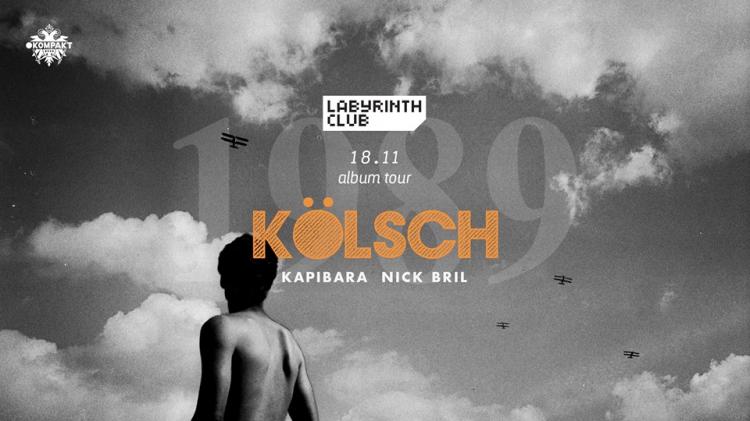 Techno, House
Samedi 18 Novembre 2017, 23:00
Hier, 7:00
Infos
PRESALE starts TUESDAY 17/10 at 18h30 sharp
Following on from the release of the third and final chapter in his autobiographical album trilogy on Kompakt, entitled '1989', Danish producer-DJ KÖLSCH reveals a string of international tour dates. The 1989 album tour begins in Miami on 27th October, and takes in Canada, Argentina, Brazil, the UK, France, Germany, Belgium, Italy, Australia and more before returning to the States for two final shows, first at New York's newest club Elsewhere on 15th December followed by Sound in LA on 16th December. For Danish Native Rune Reilly Kölsch, Kompakt is the "perfect label" to call "home." The much‐revered Cologne­‐based imprint released Kölsch's seminal LP '1977' in 2013, continuing a tradition of providing ground breaking and genre-­defining cuts. Kölsch's work proved to rewrite the rulebook on techno production, setting it on a melodic, emotion‐induced course. Kölsch returns to Kompakt this year with his long­‐awaited album '1983,' a veritable master class from one of techno's very best.
www.facebook.com/kolschofficial/
Hailing from the Amazone riverbanks in South-Amercia but stationed in the South of the Netherlands: meet KAPIBARA. This semi aquatic trio is known to infuse their cultural heritage when creating electronic dance music in the studio together. Kapibara's signature sound floats somewhere in between deephouse and techno. Converging feeling and emotion into a pallet of natural grooves. Whether they deejay or perform live, these chameleons bring great adaptability to their sets and as a resident of the infamous Labyrinth club and hoster of Taka Tuka, they have the perfect homebase to do so. Upcoming releases on Chapter 24 Records, Comport Records, Constant Circles, and Musica Autonomica.
www.facebook.com/Kapibara
NICK BRIL was born in Holland but is living in Antwerp. Since 4 years active in the highest scene of Belgium and Holland.
His sets, travel between Deephouse, Deeptech and a more rustique techno, melodic and emotional. His first compilation " Emulsion vol. 1" was released in 2015, and sold out within these months. A month ago his second Cd is released: Depth of Focus. He played clubs and festivals all over Belgium like Cafe d'anvers, Wecandance and La Rocca, Labyrinth Club, Ostend Beach Tomorrowland for ANTS and DIYNAMIC, The ARK, Extrema Outdoor, Ampere, and of course his 'A night with' at the Jane Antwerp.
www.facebook.com/nick.bril
▦ Tickets PRESALE starts TUESDAY 17/10 at 18h30 sharp
www.labyrinthclub.be/tickets
▦ Table reservations mail to:
info@labyrinthclub.be
Membres présents
---
Commentaires » Kölsch 1989 album tour (SOLD OUT)