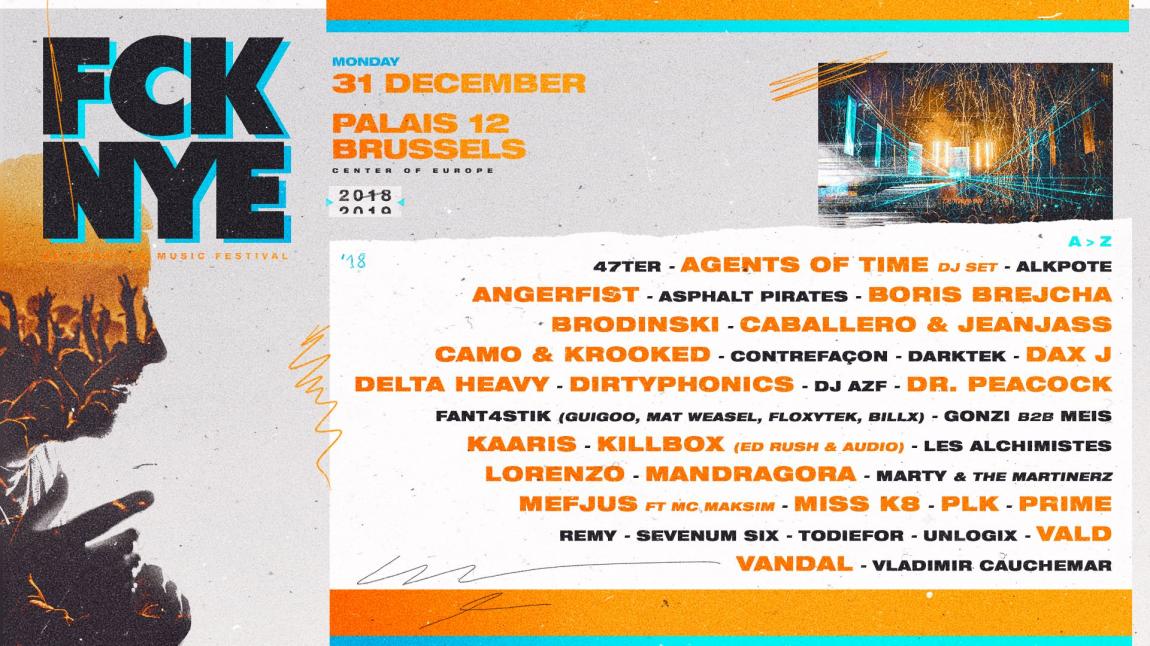 2 x 2 entrées à gagner pour cette soirée. Tentez votre chance gratuitement!
Préparez-vous pour la 9ème édition du festival FCKNYE !
La plus grosse soirée d'Europe pour fêter le Nouvel An!

Viens célébrer 2019 du crépuscule à l'aube avec 35 artistes internationaux, 4 podiums, 4 atmosphères, 10 heures de musique, 10 000 clubbers en folie venus de toute l'Europe, 10 000m² de dancefloor!
47Ter, Agents of time (dj set), Alkpote, Angerfist, Asphalt Pirates, Boris Brejcha, Brodinski, Caballero & JeanJass, Camo & Krooked, Contrefaçon, Darktek, Dax J, Delta Heavy, Dirtyphonics, Dj AZF, Dr. Peacock, Fant4stik (Guigoo, Mat Weasel, Floxytek, Billx), Gonzi b2b Meis, Kaaris, Killbox (Ed Rush & Audio), Les Alchimistes, Lorenzo, Mandragora, Marty & the Martinerz, Mefjus ft MC Maksim, Miss K8, PLK, Prime, Remy, Sevenum Six, Todiefor, Unlogix, Vald, Vandal, Vladimir Cauchemar.
www.fcknyefestival.be
Search Hotel
---
"Fcknye Festival 2018" Soirée annoncée par : F*CKIN' BEAT PRO