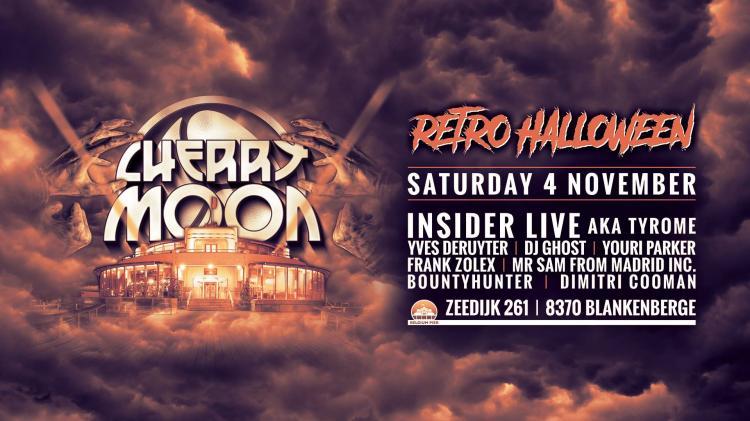 House, Retro
Samedi 04 Novembre 2017, 22:00
05 Novembre 2017, 6:00
Infos
▦ CHERRY MOON HALLOWEEN RETRO
▦ Line-up
✲Insider live (aka Tyrome, Exclusive live performance)
✲Yves Deruyter (Cherry Moon, Globe)
✲Dj Ghost (Cherry Moon, H2O)
✲Youri Parker (Cherry Moon)
✲Frank Zolex (Globe, Montini)
✲Mr Sam (aka Madrid Inc.)
✲Bountyhunter (Bonzai, Montini)
✲Dimitri Cooman (Cherry Moon)
▦ Ticket info
Presale: All Fnac Stores
Online :
www.cherrymoon.com
▦ Concept
Cherry Moon Halloween Retro is still to this day one of the most legendary Halloween events of the year.
This year we are bringing a special one since we will transform the Belgium Pier in Blankenberge to the ultimate 'House of Horror' at the sea.
With it's builing located 300 meters into the sea it will make the perfect venue to get a dark and gritty atmosphere Halloween Retro needs combined with the best Cherry Moon sounds.
Special guest for the night is none other than Insider, after being away from the Belgian Scene for over 10 years he return to give the first of some exclusive live performances and will start his tour in style at 'The House of House'.
Deejay's
Insider live (aka Tyrome, Exclusive live performance)
Yves Deruyter (Cherry Moon, Globe)
Dj Ghost (Cherry Moon, H2O)
Youri Parker (Cherry Moon)
Frank Zolex (Globe, Montini)
Mr Sam (aka Madrid Inc.)
Bountyhunter (Bonzai, Montini)
Dimitri Cooman (Cherry Moon)
Membres présents
---

3013
Lokeren
Devenir Fan
Commentaires » Cherry Moon Halloween Retro