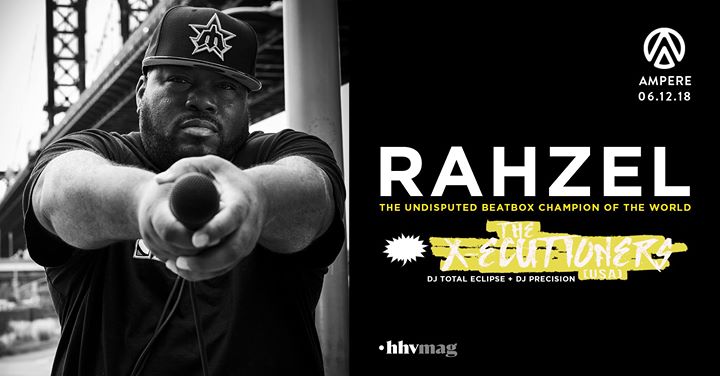 Ampere presents Rahzel (The Roots), The X-Ecutioners, Madfingaz
The undisputed Beat Box Champion of the world, the godfather of noise and member of the world famous
Roots band will embark on a tour with the X Ecutioners (Total Eclipse and Precision).

Rhazel's remarkable vocal technic and singing style is one of the world's greatest musical treasures.
Undoubtedly one of the most influential artists in modern music, his acrobatically skillful, innovative
musical expressions re-defined the art of beat-boxing making him one of the most exciting and critically
-acclaimed performers and the king of rapid-fire wit with two Grammy awards, seven more Grammy
nominations, scores of international music awards and popular accolades around the world. Rahzel
doesn't play any instruments, HE IS THE INSTRUMENT!! Rahzel' s singular ability to re-create full songs
without instrumentation, sing a chorus and provide the musical melody simultaneously, and invoke a
plethora of sound effects on a whim creates an inimitable visual and sound experience. His improvisations
go well beyond those constraints covering everything from Hip Hop, Pop, RnB, and Jazz to electronic
music which has won over audiences around the world. One leaving audiences across 40 countries,
350 cities stunned and hungry for more, as evidenced by the collective 30 million + youtube hits thus far.

Rahzel is most popularly known as a member one of the greatest Hip Hop acts of all time and one of the
best live bands of any genre: the Roots. He is also a member of Mike Patton's (Faith No More) Peeping Tom.
A highly sought-after vocalist, Rahzel has written, collaborated, toured and performed with everyone
including, Beastie Boys, Beck, Bjork (co-produced and featured on her Medúlla album), Bobby McFerrin,
Christina Aguilera, Common, Cee Lo Green, Dave Chappelle, Erykah Badu, John Legend, Lou Reed, Maroon
5, Norah Jones, Patti Smith, Sean Paul, The Who and many more.

Together on tour with the biggest Hip Hop Dj group of all time with two of the most influential DJs in the history
of Djing – the X-ECUTIONERS. The supremely iconic DMC and ITF world-champions TOTAL ECLIPSE and
PRECISION (2015 DMC world champion) come together and across four turntables. Their gigs are huge,
powerful live experiences, blending live scratching and jaw-dropping rocking Dj sets. All wannabe DJs, pull
out your jotter and take notes.

A rare opportunity is in store to witness these genre-defining artists together test their talents, fuse it together
with a dazzling voice and live performances, this show is simply not to be missed! This spectacular live event
has it all: an unforgettable evening with a mind-blowing show!

WORKSHOP AND TALK TO BE CONFIRMED
MORE NEWS AS IT BREAKS, PRESALE IS LIVE NOW.
RAHZEL (THE ROOTS)_US
THE X-ECUTIONERS FT PRECISION AND TOTAL ECLIPSE_US
MADFINGAZ (Red Bull Thre3style)
DELOIN (The Love Below)
wwww.ampere-antwerp.com/tickets
www.ampere-antwerp.com
Search Hotel
---
"Ampere presents Rahzel (The Roots), The X-Ecutioners, Madfingaz" Soirée annoncée par : Ampere PRO