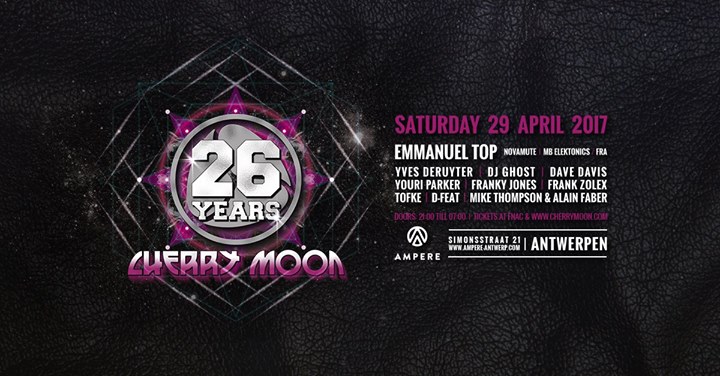 Techno, House
Samedi 29 Avril 2017, 20:00
30 Avril 2017, 6:00
Ampere

21 Simonsstraat

,

2018

Antwerp

(

BE

)
Infos
▦ 26 YEARS CHERRY MOON
▦ 26 YEARS THE HOUSE OF HOUSE
▦ 26 YEARS THE CLUB, THE PEOPLE, THE MUSIC
▦ Line-up
EMMANUEL TOP (Novamute, MB Elektronics / FRA)
Yves Deruyter (Cherry Moon, Globe)
Dj Ghost (Cherry Moon, H2O)
Dave Davis (Cherry Moon)
Youri Parker (Cherry Moon)
Frank Zolex (Globe, Montini)
Tofke (Globe, La Rocca)
D-Feat (Cherry Moon)
Franky Jones (Montini, Carat)
Mike Thompson & Alain Faber (Cherry Moon Foyer Legends)
▦ Ticket info
Presale: All Fnac Stores
Online :
www.cherrymoon.com
▦ Concept
Cherry Moon and Ampere, the perfect match.
After 2 sold out editions at Belgium's number 1 club (voted 'Best Club' at the RedBull Elektropedia Awards) it makes perfect sense that the "House of House" will be celebrating it's 26th anniversary at the state of the art club Ampere in Antwerp.
For this occasion we are very trilled to announce one of the ultimate international techno legends at 26 Years Cherry Moon, Emmanuel Top!
www.ampere-antwerp.com
Deejay's
EMMANUEL TOP (Novamute, MB Elektronics / FRA)
Yves Deruyter (Cherry Moon, Globe)
Dj Ghost (Cherry Moon, H2O)
Dave Davis (Cherry Moon)
Youri Parker (Cherry Moon)
Frank Zolex (Globe, Montini)
Tofke (Globe, La Rocca)
D-Feat (Cherry Moon)
Franky Jones (Montini, Carat)
Mike Thompson & Alain Faber (Cherry Moon Foyer Legends)
Membres présents
---

3074
Lokeren
Devenir Fan
Commentaires » 26 Years Cherry Moon